Laser Hair Removal For Women
Buffalo Laser Spa & Cheryl's Hair Removal Center has been providing laser hair removal for women since 1998. That's over 23 consecutive years in Buffalo NY. We have more experience than even the National Chains in laser hair removal. Our "New" Venus Velocity laser hair removal device is able to remove unwanted hair with less pain. Yes, you heard it right, with less pain! The Velocity is very unique in that it can laser large areas of hair with less pain than just about any other laser on the market today. And it is very fast and effective so you can go about your day. (See Our Women's Special Pricing Below)
You can try temporary methods of hair removal but the hair always grows back. Now with our Velocity laser hair removal program we can remove your hair in a flash of light. With hardly any pain! And our prices are less expensive than those national companies that try to get you in a Big Money Package.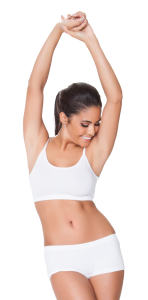 With us you can pay per time as you need treatments or pay for a package with deep discounts that are much less than our competitors. Give us a try, what do you have to lose except your unwanted hair! You'll be glad you did.
Laser hair removal for women at Buffalo Laser Spa & Cheryl's Hair Removal Center has been helping 10,000's of women remove their hair since 1998. Give us a Call at 716-631-5525 for a Free no obligation consultation.
We try to work with any budget to make sure treatments are affordable. In house financing offers payment plans with 50% down and payments over 12 months.
Results you can see and feel. Once you have a laser hair removal treatment at Buffalo Laser Spa and Cheryl's Hair Removal Center you will notice how soft your skin becomes after your treatments. There's no more stubble, just smooth skin! Laser Hair Removal is easier now than ever at Cheryl's Hair Removal Center and Buffalo Laser Spa. We are in the heart of Williamsville at 5820 Main St, Suite 101, Williamsville, NY 14221 and we serve East Amherst, Clarence, Cheektowaga, Tonawanda and Buffalo to name a few local cities.
---
Common Laser Hair Removal Areas for Women
| | | |
| --- | --- | --- |
| • Upper Lip | • Brazilian | • Thighs |
| • Chin | • Bikini Line | • Full Face |
| • Underarms | • Legs | • Breasts |
| • Neck | • Arms | • Buttocks |
| • Chest / Breast | | |