CoolSculpting Arm Fat Removal- That's Cool!
Special 2 CoolSculpting Small Applicators plus
one FREE Venus Legacy RF Body Contouring Treatment (a $300.00 Value for FREE)
to remove more of your Stubborn Fat.
2 Small CoolSculpting Applicators
$1700 List Price
Now Only $1,050!
Call 716-631-5525 for details
4 Small CoolSculpting Applicators
$3400 List Price
Now Only $1,700!
Call 716-631-5525 for details
To most women arm fat is unwanted and unwelcome! Coolsculpting Arm Fat Removal can remove your arm fat and give you that look you want. Arm fat is one of those areas that is difficult to remove the fat from. Upper arm fat is also known as "bat wings" "arm flab" or "bingo arms". Upper arm fat is more of a problem for women as women age the fat deposits in that area which gravity helps pull down. Women have several spots that collect unwanted fat such as; the pooch area, love handles, thighs and upper arms. These types of fat deposits are affected by hormonal changes in women as they age. These areas are the most resistant to diet and exercise. That is why Coolsculpting can help eliminate upper arm fat. CoolSculpting technology uses controlled cooling to target and kill only the targeted fat cells. In the weeks to follow, your body naturally processes the fat and eliminates dead cells.
Coolsculpting Arm Fat Removal Before & After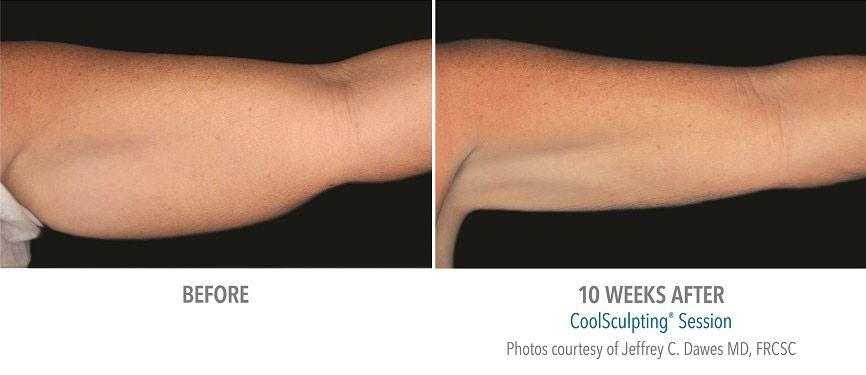 Fat cells that are frozen during the CoolSculpting procedure gradually die off and leave the body through the body's natural elimination process. That's why the results are long-term. Untreated areas will have no change in fat cell distribution. Results are noticeable within a few weeks after the initial CoolSculpting treatment, but the most drastic results will be seen a few months afterward. Most patients only need one treatment but some patients find that second treatment will give them they look they want to achieve. You can discuss all of this our Practice Manager during your Free consultation.
Buffalo Laser Spa offers the "New" Coolsculpting Arm Fat Removal with special pricing. Freeze your fat away! Call for details, 716-631-5525 for a Free consultation.
The entire procedure takes less than an hour and it is completely non-invasive. The treatment is comfortable, and most patients read or even nap during a treatment session. There is no downtime associated with CoolSculpting, and you can easily return to work or your normal activities following the session.