CoolSculpting Fat Removal!
CoolSculpting Specials
Small Applicators plus one FREE Venus Concept Legacy RF Body Contouring Treatment
(a $300.00 Value for FREE) to help remove more of your Stubborn Fat
Choose either 2 Small Applicators or 4 Small Applicators Below
2 Small CoolSculpting Applicators
PLUS FREE $300.00 Venus Concept

Body Contouring Treatment
Online Special Only
Fully Refundable If Not Used!
Regular Price $1,995
Sale Price $1200
Now Only $1,095!
Call 716-631-5525 for details
4 Small CoolSculpting Applicators
PLUS FREE $300.00 Venus Concept

Body Contouring Treatment
Online Special Only
Fully Refundable If Not Used!
Regular Price $3,700
Sale Price $2400
Now Only $1,995!
Call 716-631-5525 for details
CoolSculpting Freezes Your Fat Away!
Venus Concepts Legacy RF Helps Flush your Fat Out Of Your Body and Contours Your Body
Coolsculpting at Buffalo Laser Spa makes it easy to remove your stubborn fat in an affordable way. It is impossible to exercise or diet your stubborn fat away without either invasive surgery or trying Coolsculpting. Removing stubborn fat in your love handles (flanks) and stomach (pooch) area. It doesn't matter how intense your workout or how strict your diet is, you can't remove stubborn fat from those areas. At least that is until now, with our affordable Coolsculpting technology, the smart way to get rid of your stubborn fat! You can reduce those stubborn areas without surgery!
Coolsculpting fat removal at Buffalo Laser Spa, affordably remove your stubborn fat. Coolsculpting freezes your fat cells away by cryolipolysis. CoolSculpting was developed by renowned scientists of Harvard University and Massachusetts General Hospital, the FDA-cleared procedure known as CoolSculpting uses patented cooling technology to eliminate fat cells, without surgery, and little to no downtime. The reduction in fat cells in the treated area provides noticeable, and lasting results to help you look and feel your very best.
Our licensed NY State Estheticians staff at Buffalo Laser Spa have mastered our cryolipolysis to administer a safe and comfortable procedure which provides you with results that you'll absolutely love. Within one treatment, you'll be on your way to achieving the sleek, toned body that you've always dreamed about. Look your very best, get your ideal sculpting at Buffalo Laser Spa. If you want better results try our exclusive, Coolsculpting Fire and Ice Fat Removal Program.

What areas can we treat with CoolSculpting?
Stomach/Abdomen/Pooch

Love Handles/Flanks

Under the Neck (Double Chin)

Back/Bra Area

Arm Fat (Bat Wings)
How does CoolSculpting work?
Freeze away your fat? The science behind Coolsculpting is known as Cryolipolysis®, results in the treated fat cells becoming crystallized (frozen), and actually die. Because the fats crystallize faster than normal cells, there is no damage to skin, nerves or other surrounding tissue.Over time as the treated fat cells shrink and die, your body naturally metabolizes them, eliminating these dead cells, and leaving a more sculpted you. Unlike with diet or exercise where the fat cells are reduced in size, with CoolSculpting, once the treated fat cells are gone, they're gone for good.
With each session you are able to decrease the number of treated fat cell by about 20%. Each additional treatment further enhances your results, ridding you of an additional 20% of the treated fat cells per session. With CoolSculpting at Buffalo Laser Spa, it's easy to sit back, relax and reduce your stubborn fat.
How much does CoolSculpting cost?
The price for CoolSculpting procedures varies depending on your areas of concern, the number of treatments needed, and your ultimate goals. The cost can be as little as $600.00 up to several thousands of dollars for a personalized treatment plan depending on the number of areas treated. It is impossible to quote exact prices over the phone or over the internet because we personally measure the fat that you need to remove. Everyone's bodies needs are so different but we can usually get a complete plan to you at your consultation within 15-30 minutes.

Despite diet and exercise, fat cells accumulate in the body and can be very tough to get rid of.
CoolSculpting technology uses controlled cooling (Cryolipolysis) to target, freeze, and kill only these fat cells.
In the weeks to follow, these fat cells are naturally eliminated from the body.
CoolSculpting results are long-term, as treated fat cells are gone for good.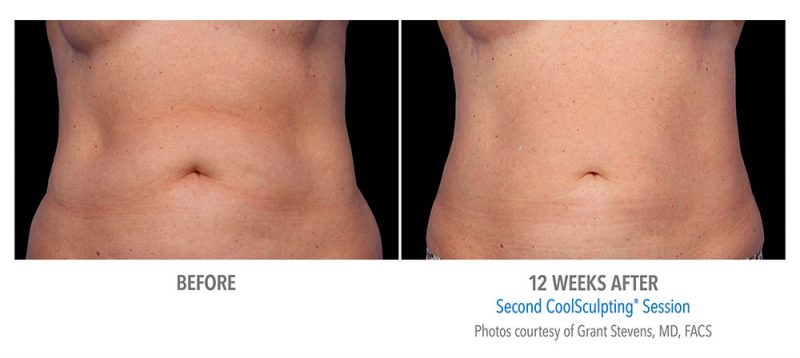 COOLSCULPTING VS. LIPOSUCTION
A method of fat removal, liposuction is a surgical procedure that requires individuals to undergo general anesthesia. It works by using large tubes to pull or suck out fat from targeted areas of the body, leaving individuals with immediate results. However, it's an invasive procedure and can require up to several weeks of sometime painful recovery. CoolSculpting doesn't require surgery, is completely non-invasive and has no downtime.
COOLSCULPTING VS. DIET, WEIGHT LOSS AND EXERCISE
FAT CELLS AFTER TYPICAL DIET/WEIGHT LOSS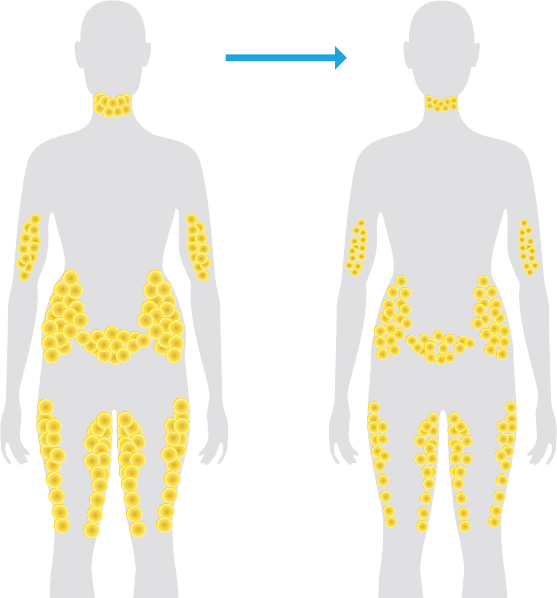 After dieting and weight loss, fat cells get smaller but the number of fat cells stays the same. When weight is gained, fat cells get bigger.
FAT CELLS AFTER THE COOLSCULPTING PROCEDURE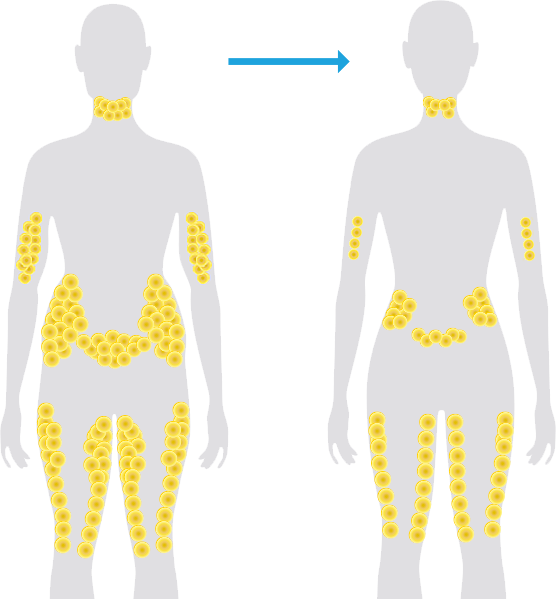 The CoolSculpting fat-freezing procedure actually reduces the number of fat cells in treated areas by about 20% to 25%. These fat cells are naturally processed and eliminated, so they won't migrate to another area of your body. And, unlike what happens with other procedures, there's no change to fat cells in untreated areas.*
*Data on file. CoolSculpting®.
COOLSCULPTING Questions & Answers
Q: What does CoolSculpting feel like?

As the cooling begins during the first few minutes, you will feel mild pressure and intense cold. This soon dissipates. Many people read, watch videos or play games on their phone, work on their laptop, or even take a nap during their Coolsculpting treatment.

Q: When will I see CoolSculpting results?

You may start to see changes as quickly as four weeks after your treatment, and will experience the most dramatic results after two months. Your body flushes out fat cells and continues doing so for up to four to six months after treatment.

Q: What happens if I gain weight down the road?

Many people, after seeing the results from their CoolSculpting procedure, use the Coolsculpting treatments as a kickstart to a better healthy lifestyle. However, if you do gain weight, you may gain it evenly all over your body, not just in the treated areas. You will however have fewer fat cells in your treated areas, so most patients see increased tone in treated areas, even after gaining weight.

Q: How many treatments are necessary?

Many see results after just one treatment, but others may need a few to reach their specific goals. Our trained staff member will help guide you to a customized plan that is right for you during your initial consultation in which treatment areas and the number of sessions will be determined.

Q: What are the risks of the procedure?

Typical side effects are minor and rare but can include temporary redness, swelling, mild bruising, firmness, tingling,tenderness, cramping, aching, itching, or skin sensitivity. These effects are temporary and generally resolve within days or weeks.

Q: What happens to the frozen fat cells?

After the fat cells are targeted and frozen, your body naturally and gradually sheds them. They become processed and eliminated on their own over the course of six months. Unlike with diet and exercise, fat cells actually die and are permanently gone from your body with the CoolSculpting procedure. You'll literally freeze them away and be left with a toned, firm body!