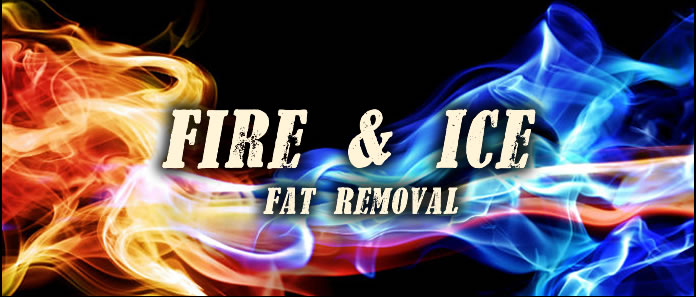 Fire & Ice Fat Removal
The NEW Fire & Ice Fat Removal Program exclusively at Buffalo Laser Spa offers two cutting edge technologies to remove more fat while tightening your skin from those stubborn areas of the body! Love handles, stomach, pooch, under chin fat, arm fat, and bra line fat. This new technology is the Advanced Solution to complement almost any type of fat removal.
Fire & Ice Fat Removal How It Works
The Fire & Ice Fat Removal Program is, in fact, a combination of two distinct therapies. The first (the ice part), involves killing fat cells by freezing them, a process called cryolipolysis. We use the new Coolsculpting unit to freeze and remove your fat cells. Because we don't develop many new fat cells after puberty, the thing which makes us fat is not the production of more fat cells but rather the filling of the ones we already have. Coolsculpting kills fat cells allowing them to be excreted harmlessly from the body while leaving other cells unharmed.
The second step where the 'fire' part of "Fire & Ice Fat Removal" comes from the use of our RF Smartscan Gentle Skin Tightening device which delivers radiofrequency where the fat cells have been removed. During this portion of the treatment the radio frequencies heat the collagen below the skin causing it to tighten and regenerate. This helps contour and smooth the skin especially after the fat has been released from your fat cells and your body naturally excretes them. Furthermore the treatment promises to tackle not just fat but also skin tone. In other words I'd not only see the inches disappear but also the skin become smoother and tighter.
Coolsculpting and RF Smartscan Gentle Skin Tightening have proven in studies when used in combination will enhance fat removal.
Join Buffalo Laser Spa "Fire & Ice Fat Removal Program" to remove your unwanted fat! We combine 2 methods of technologies to deliver dramatic results, without surgery. Bundle Coolsculpting with RF Smartscan Gentle Skin Tightening to Melt Fat, Lose Inches. The complete, clinically proven, non-surgical solution to total transformation! It's more affordable than you think. Real results – less than half the cost of lipo with no risk, no trauma, no downtime, no surgery.
Call us at (716) 817-5544 for your free consultation or fill out the form above and let our body contouring experts design a "Fire & Ice Fat Removal Program" custom plan, just for you.
Fire & Ice Plan A
| | |
| --- | --- |
| WEEK 1 | Start with a COOLSCULPTING treatment to destroy fat. Remain active & hydrate. |
| WEEK 2-6 | While your body is processing the fat from your COOLSCULPTING treatment, get one Gentle Skin Tightning treatment each week to tighten skin, increase lymphatic stimulation and reduce cellulite. Use your Venus Body Firming Cream at home. This is where you can start to see results. |
| WEEK 7 | Get another COOLSCULPTING treatment. Continue healthy lifestyle changes. |
| WEEK 8-12 | While your body is processing the fat from your COOLSCULPTING treatment, get one Gentle Skin Tightening treatment each week to tighten skin, increase lymphatic stimulation and magnify results. Feel the confidence! |
| WEEK 13 ON | Buy new clothes, enjoy your results and love your body even more! |

Fire & Ice Plan B
| | |
| --- | --- |
| WEEK 1 | Start with a COOLSCULPTING treatment to destroy fat. Remain active & hydrate. |
| WEEK 2-7 | While your body is processing the fat from your COOLSCULPTING treatment, get one RF Smartscan Gentle Skin Tightening treatment each week to tighten skin, increase lymphatic stimulation and reduce cellulite. Use your Venus Body Firming Cream at home. This is where you can start to see results. |
| WEEK 8 | Buy new clothes, enjoy your results and love your new body even more! |